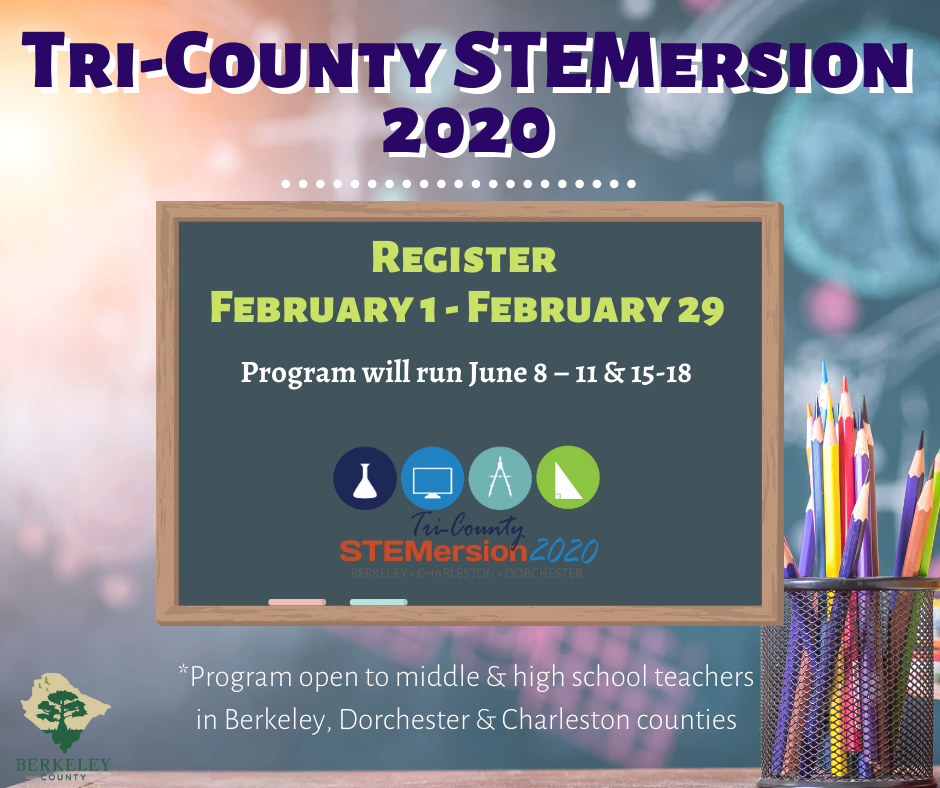 MONCKS CORNER, S.C. – (Wednesday, January 29, 2020) — Berkeley County Economic Development, in cooperation with Charleston and Dorchester counties' Economic Development Offices and the South Carolina Department of Commerce, announces the Third Annual Tri-County STEMersion Program to connect educators with area industries.
What: Tri-County STEMersion 2020
When: Registration opens February 1-29, 2020, program will run June 8 – 11 & 15-18, 2020
Tri-County STEMersion 2020 is a two-week, unique hands-on program for up to 40 middle and high school instructors in the Tri-County. STEMersion ties the world of work to classroom lessons through the inclusion of competencies of local industries, increased knowledge of careers and emphasis on the skill needs of industries.
Throughout the program, educators will visit one or two sites per day and be introduced to local companies' work environments. They will receive hands-on learning experience and lesson-plan writing. The plans will focus on math, science and soft skills and reinforce why such skills are vital to the Tri-County region's workforce and economic growth.
STEMersion provides up to a $1,000 stipend for educators. The stipend is based on completed assignments and budget allocations for educators who complete the work-based learning experiences at local industry sites, create lesson plans based on the experiences and agree to integrate the new knowledge into the classroom. Seats are limited. An acceptance letter for applications will be sent no later than May 1, 2020. To apply, visit berkeleymeansbusiness.com or click here.
Hosting industries will accommodate educators on-site for a half- or full-day session and also provide space for creating lesson outlines based on the visit. Industry professionals will be on-hand to do the following:• Include a 30/45-minute tour or detailed discussion of the workflow process
Provide employee presentations and hands-on experiences
Offer lunch with candid workforce/talent development conversations
Reinforce the skills needed for the industries' workplace
Participate in STEMersion follow-up sessions with educators and STEMersion planning team
For more information about investing or hosting educators, contact Kristen Lanier, Berkeley County Workforce Development Manager, at or 843-719-4301.
###
– Prepared by the Berkeley County Public Information Office –