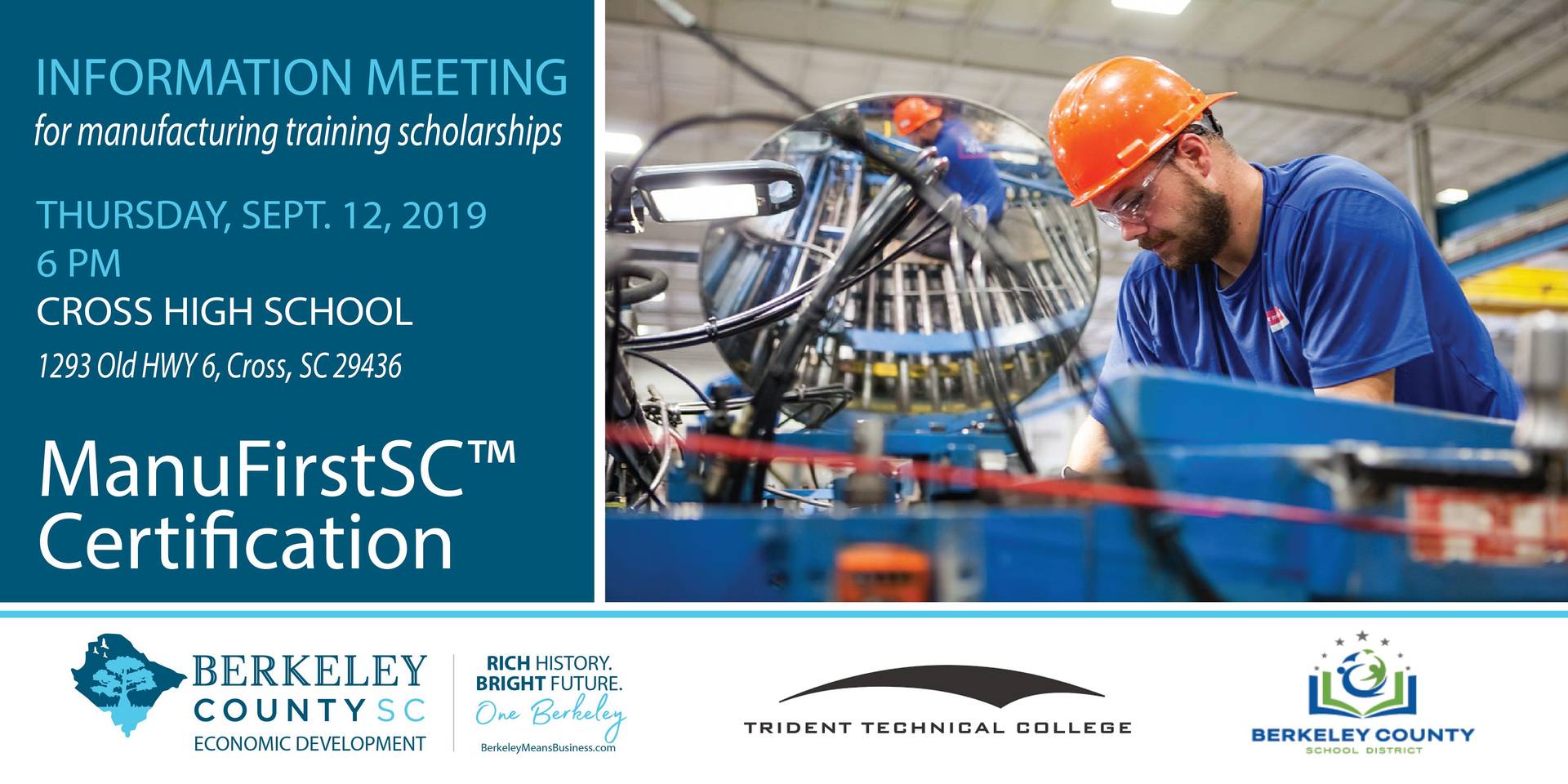 Scholarships to be provided for upcoming ManuFirstSCTM course, rescheduled from September 5
MONCKS CORNER, S.C. – (Monday, September 9, 2019) Berkeley County will host an information meeting to provide training for manufacturing positions on Thursday, September 12 at 6 p.m. This is the rescheduled date after the September 5th meeting was canceled due to Hurricane Dorian. The meeting will be held at Cross High School. It is open to Berkeley County residents looking for manufacturing jobs.
When: Thursday, September 12 at 6 p.m.
Where: Cross High School, 1293 Old Hwy 6, Cross, SC 29436
Why: Help connect Berkeley County residents with the necessary training for manufacturing positions
Attendees will have the opportunity to sign-up for the upcoming ManuFirstSCTM, formerly known as Lean Manufacturing. The course will begin on Saturday, October 19, 2019 at the Cross High School Campus. This three-week course, concluding on November 12, will provide the necessary training to qualify candidates for positions at industries around Berkeley County and throughout the state of South Carolina. Graduates of the program will have an opportunity to connect with local employers and community partners.
The course is free for candidates who are Berkeley County residents who meet the following requirements:
be at least 18 years old
be able to legally work in the United States
provide documentation of Berkeley County residency
have a high school diploma or GED
provide proof of a Bronze WIN/WorkKeys score
pass a SC SLED background check (paid for by the scholarship)
pass a basic panel drug screen (paid for by the scholarship)
About ManuFirstSCTM – Berkeley County worked in partnership with Trident Technical College, South Carolina Department of Commerce, Volvo Cars, and Ready SC to pilot the program in June of 2017. Now, neighboring counties have emulated the training program to provide opportunities for residents around the state with more than 900 graduates in the Tri-County area, including 350 Berkeley County residents. SC Department of Commerce has rebranded the program to ManuFirstSCTM and is rolling it out across the state's technical college system by industry demand.
Participants are asked to register for the information session online at http://bit.ly/CrossManuFirst
###
 – Prepared by the Berkeley County Public Information Office –