BCWS refinances revenue bonds, saves nearly $1.3 million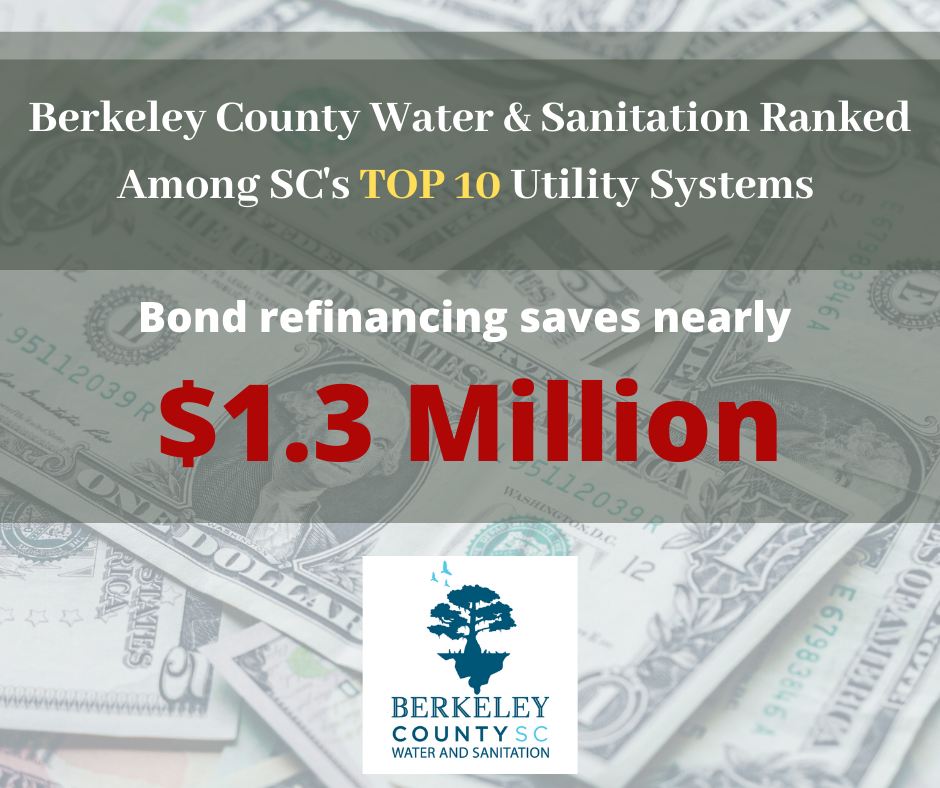 BERKELEY COUNTY, S.C. – (Tuesday, November 26, 2019) — Berkeley County Water & Sanitation (BCWS) is now ranked among the top 10 utility systems in South Carolina. The rating comes from the globally-known credit agency Standard & Poor's.
BCWS recently received a rating upgrade of AA+, which is only one notch below the highest rating of AAA. BCWS previously had a AA rating. The information was presented to County Council during its meeting Monday night.
Only three utility systems across the state boast a AAA rating, and only seven in the state—now including Berkeley County—have a AA+ rating. The rating is an indication of a utility system's creditworthiness. Accordingly, the closer a rating is to AAA, the lower the borrowing costs and interest rates will be for a utility system.
Standard & Poor's report released the following statement about BCWS:
In our view, the Authority's financial position remains healthy and demonstrates historically stronger-to-very strong debt service coverage (DSC) and liquidity metrics.
Berkeley County gained its new, higher rating during the issuance of the $24,535,000 Combined Utility System's Refunding Revenue Bonds, Series 2019, which were issued to finance outstanding bonds. The lowered interest rates will result in the County saving nearly $1.3 million through 2028, when the bonds will be paid in full. Broken down, the total savings equates to roughly $115,000 to $150,000 annually during the life of the bonds.
I want to commend our Berkeley County Water & Sanitation staff, our Finance Department, and all who helped in this process. Being fiscally responsible is, and always will be, a top priority for the County; and we will continue to find ways to effectively manage the County's limited resources to continue improving quality of life for our residents. -County Supervisor Johnny Cribb
Visit the following link to watch footage from County Council's meeting: https://www.facebook.com/BerkeleySCGov/videos/2581548621938780/
###
– Prepared by the Berkeley County Public Information Office –