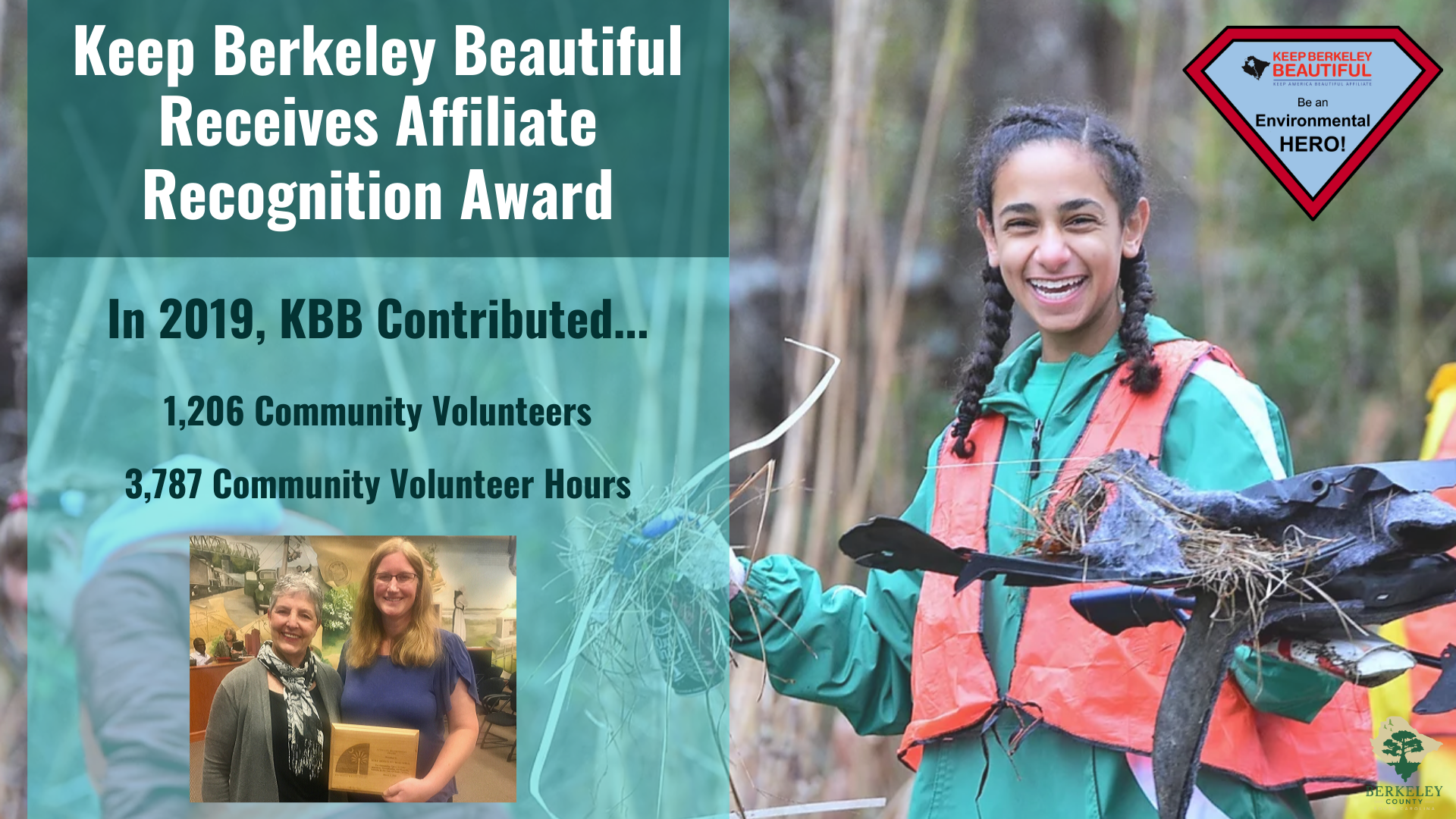 MONCKS CORNER, S.C.– (Friday, March 13, 2020) — They pick up trash along highways and boat landings. They encourage recycling and youth involvement. They target litter and promote beautiful, clean communities across Berkeley County. They are Keep Berkeley Beautiful (KBB) volunteers who have worked the past few years to transform the County into a more environmentally-pleasing place to live, work and explore.
"We have been hard at work since 2017. We eradicate litter on the County roads and waterways. We encourage recycling and we beautify." -Chris Volf, KBB Chairperson
In October 2019, more than 80 volunteers helped KBB remove 2,000-plus pounds of trash from the Goose Creek Reservoir; and earlier this year, at least 680 volunteers helped pick up more than 21,000 pounds of trash and nearly 5,000 pounds of tires from the Francis Marion National Forest.
But more than collecting trash, the all-volunteer group is collecting awards. For the second consecutive year, KBB received the prestigious Affiliate Award at the Keep South Carolina Beautiful and Palmetto Pride Conference on March 5. KBB operates under Keep SC Beautiful umbrella, which is part of the larger Keep America Beautiful (KAB) organization. Berkeley County was only one of five counties statewide to be given the honor—handed out to affiliates who "meet and exceed" certain KAB requirements.
"That's pretty impressive for Berkeley County and all of our volunteers and all of our partners." -Sarah McCarthy-Smith, KBB Director
But the excitement doesn't end there. KBB is in the process of rebranding its materials—including a new website, brochures and logo—along with working toward future goals and growing current programs. KBB hosts litter art programs and meets with student advisory committees in local schools; operates both a Plastic Bag Recycling Program, in partnership with Publix at the Oakley Road Convenience Center in Moncks Corner, and a Textile Recycling Program (i.e. clothes and shoes) at all nine convenience centers in the County; and implements the unique 100 Live Oaks Project for individuals to purchase and have a tree planted in honor of a loved one.
###
– Prepared by the Berkeley County Public Information Office –