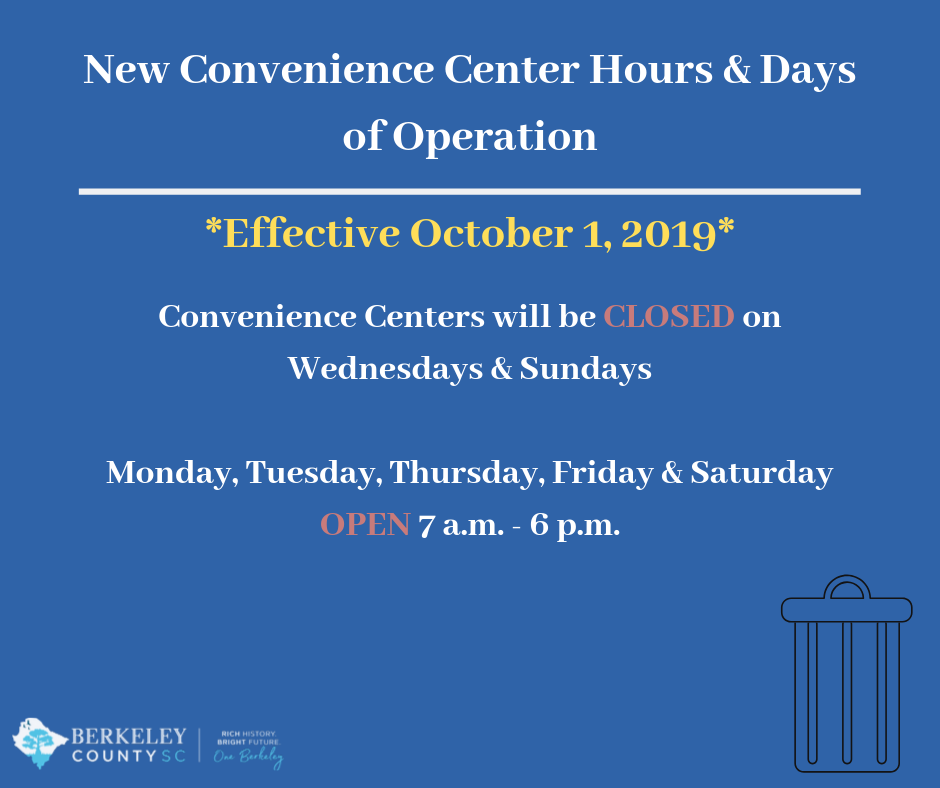 MONCKS CORNER, S.C.- (Monday, September 30, 2019) Starting October 1, 2019, Berkeley County convenience centers will be CLOSED Wednesdays and Sundays of every week. The sites will be open from 7 a.m.- 6 p.m. on Mondays, Tuesdays, Thursdays, Fridays and Saturdays. Hours for the Berkeley County landfill will remain the same.
The nine Berkeley County convenience centers are listed below. Berkeley County has also created an interactive mapping tool to highlight the locations of all convenience centers and drop-off locations. That can be found here: https://berkeleycountysc.gov/recycling/
Ranger Drive- 2163 Ranger Drive, Cross, S.C. 29436
Charity Church- 1430 Charity Church Road, Huger, S.C. 29450
Poplar Hill- 1029 Poplar Hill Road, Ridgeville, S.C. 29472
Gravel Hill- 1025 Gravel Hill Road, Bonneau, S.C. 29431
Pineville- 1818 Highway 45, Pineville, S.C. 29468
Shulerville- 2115 Shulerville Road, Jamestown, S.C. 29453
Oakley Road- 606 Oakley Road, Moncks, S.C. 29461
Savanna Creek- 3663 N. Highway 17-A, Bonneau, S.C. 29431
Alligator Road- Alligator Road 1078 Alligator Road, Cordesville, S.C. 29434
Berkeley County landfill hours:
Monday-Friday: 7:30 a.m. – 4:30 p.m.
Saturday: 7:30 a.m. – 1:00 p.m.
Berkeley County convenience centers are open to Berkeley County residents only, for disposal of residential trash. Commercial waste is not permitted.
Signs have been posted at the sites, notifying the public about the convenience center schedule change. Additionally, flyers have been handed out as a reminder to citizens. More information about the Berkeley County convenience centers and landfill can be found here: https://bcws.berkeleycountysc.gov/
###
– Prepared by the Berkeley County Public Information Office –